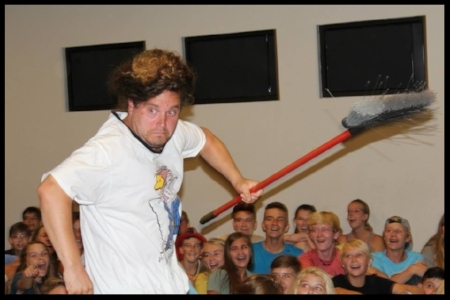 Ask us any question you would like.
We promise we won't chase you away.
WHO IS SOUL IN THE CITY FOR?
Soul in the City is designed for student groups of rising 8th graders through 12th graders.
WHAT DOES THE COST OF SOUL IN THE CITY INCLUDE?
Camp T-Shirt

Lodging for 5 nights

Breakfast, lunch and dinner

Transportation to and from serve sites

The best week of your life
DO WE HAVE TO PAY THE FULL PRICE TO REGISTER?
Yes. In order to secure your spot at Soul in the City, you must make a full payment.
WHEN ARE THE PAYMENT DEADLINES?
We have three tiers of registration periods for 2018:
1. $200: January. 1st, 2019 - February 28th, 2019
2. $225: March 1st, 2019 - April 30th, 2019
3. $260: May 1st, 2019 - July 21st, 2019
*Note: There will be an added fee to make payment online. However, if you would like to pay with check or cash there will be an option to select titled, "Pay by check or cash."
WHAT IS THE CANCELATION POLICY?
If you cancel any spot before June 1st, 2019, you are eligible to receive a full refund. If you cancel any spot between June 1st, 2019 – June 30th, 2019, you will receive a 50% refund on your camp registration. If you cancel any spot on or after July 1st, 2019, the full camp registration will be non-refundable.

HOW MANY ADULT LEADERS IS MY GROUP REQUIRED TO BRING?
For the safety and well being of all students, we require a minimum of 1 adult leader for every 10 students. However, we have found that students thrive most and have the best experience at camp with a 1 to 8 ratio.
CAN SOUL IN THE CITY ACCOMMODATE FOOD ALLERGIES AND DIETARY RESTRICTIONS?
Yes. Please indicate any food allergies when prompted in the registration process.
WHERE WILL THE WORSHIP AND TEACHINGS TAKE PLACE?
All Soul in the City Main Sessions will take place at The Barn at Grace Anglican Church.
WHAT ARE SMALL TALK GROUPS?
Commonly referred to as small groups, this is a group of 4-8 students of like grade and gender who will gather after each session in The Barn to discuss the content.
WHAT DO MY STUDENTS NEED TO BRING?
Tennis shoes, or closed toe shoes and socks, Flip flops or sandals, Shorts: a minimum of finger-tip length. (When holding arms at your side, bottom of your shorts must meet your fingertips. No cut offs, spandex, cheerleader shorts or any short-shorts.), Shirts: any tank tops should truly be TANK (about 1 ½ inches in thickness. No mesh/fishnet tanks, no spaghetti straps), Swim Suits: Modest swim suits only. Boys: no Speedos. Girls: no triangle tops/strapless/string bikinis. (Permitted are one-piece bathing suits), Comfortable clothing for after work sites, Sleep wear (modest), 2 Towels and washcloth, Single Air Mattress (Doubles and queens will not be allowed this year) & Sleeping Bag, Hats / bandannas (the sun is HOT), Sweatshirt or long-sleeve shirt or windbreaker, Bible, Notebook, Pen, Personal toiletries (toothbrush, toothpaste, shampoo, soap etc.), Medication you take regularly with detailed instructions. (These will be labeled, bagged and distributed by a camp nurse), Water bottle—a MUST HAVE, Bug spray or lotion, Sun Screen, Extra pair of glasses / contact lenses, EXTRA SPENDING MONEY FOR MERCHANDISE AND SNACKS
IS THERE A DRESS CODE FOR SOUL IN THE CITY?
We want all students to feel comfortable and welcome at Soul in the City. We ask that leaders be responsible for making sure all of their students are dressed appropriately during the week. One-piece bathing suits are required for girls and we ask that guys wear a shirt at all times, unless they are showering. Overall, please ask your students to be modest, smart and respectful with their attire.
WHAT CAN STUDENTS DO DURING FREE TIME?
Your group can enjoy all that the Grace Anglican Church campus has to offer. Octaball, Beach volleyball, The Pit, Whiffle ball Field, Giant Slip N Slide, Arts and Crafts, Frisbee Golf, Four Square, and more.
WHO DO I EMAIL IF I STILL HAVE QUESTIONS?
You can email the Soul Team at sitc@graceanglican.church.